Shawn Rice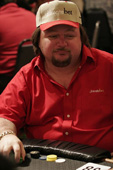 Pro Member of Team Ultimate Bet With Annie Duke & Phil Hellmuth

Was Taught to Play Poker by the Legendary Amarillo Slim

Fox Sports' Best Damn Poker Show Player Advisor

Champion: 2007 Vegas Grand Prix Poker Tournament at Binions

WPT's Professional Poker Tour Circuit Player Invitee

Multiple 1st Place Wins: Ultimate Poker Challenge (UPC)

2nd in 2004 WSOP $2K NLH (Event 2)

WSOP Academy Poker Camp Instructor
Shawn Rice has been playing poker professionally for 20 years. His solid play and many tournament successes earned him a spot on Team UltimateBet (UB) alongside Annie Duke, Phil Hellmuth and online pro PokerH0. Shawn has been associated with UB since 2004 and can often be seen playing there as "WestTexasMan" in the cash games and the bigger online tourneys. He is a consultant and touring pro for the site. Shawn has made over 40 television appearances in the last few years either while playing poker or commentating on it.
Shawn's often been quoted as saying one of the keys to his success in tournament poker in particular is that: "I'm not afraid to put my chips in." In fact, "I am afraid not to put my chips in."
When asked what he feels is the most important poker skill, he says (borrowing from fellow poker pro and friend Paul Wolfe): "KYP. Know Your Player." If you know key things about your opponents, your decisions are much, much easier."
Shawn's has a passion for teaching. "I have seen many great results from players who I have mentored. I love seeing them succeed." So when Shawn is not playing poker he spends lots of his time teaching at camps and giving private lessons. Shawn now lives in Lubbock, Texas and occasional will play a local game but spends most of his time away from home either playing or teaching poker including the WSOP Academy Poker Camps.
We are proud to have an instructor of Shawn's exceptional teaching ability, as part of the ProPlayLive team. Click this link if you are interested in Private Poker Instruction from Shawn Rice.