John Lukas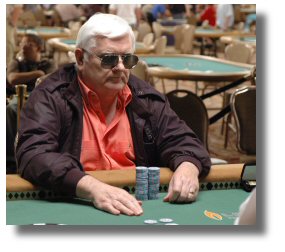 Holds 2 WSOP Gold Bracelets

Member of Senior Poker Player Hall of Fame

Past Georgia Tech Professor

ProPlay Instructor

John Lukas has won 2 WSOP bracelets: one in 7-Card Razz and the other in 7-Card Stud Hi-Lo and is listed on Top WSOP Bracelet Winners lists such as the one found on PokerListings.com and other poker sites. In addition to his WSOP wins, John has come close to winning several other bracelets with his most recent near-miss in 2005 getting heads-up and finishing 2nd of 999 players in the $1,500 Omaha Hi-Low Split WSOP event. Regarding his runner up place in that event, John said: "My opponent had 600,000 to my 400,000+. After a hour of play disaster struck me, he scooped five consecutive pots. No player, not even the best player in the world, could survive the onslaught of a card rush, which is what happened."

In addition to his WSOP Bracelet wins, some other notable showings are that he finished 6th in Jack Binions World Poker Open in 2004, 7th in the Bellagio 7 card stud 8 or better in 2003, in the money in LA Poker Classic 2002 in Omaha Hi-Lo 8, 3rd in 7 Card Stud Hi-Lo in Jack Binion World Poker Open 2002, 1st in Omaha Hi-Lo 8 @ Card Player Cruise 2003, and in the money at Golden Nugget Grand Prix of Poker, Diamond Jim Brady Poker Tournament, Super Bowl of Poker among others.

John now mostly plays cash games and for tournaments, he specializes in 7 Card Stud Hi-Lo & Omaha Hi-Lo although has increasingly been playing Hold'em.

His one piece of advice to players is:
"If you can recognize a playable hand, you can play poker...any game. That is, if you can learn to recognize a playable hand, and throw the rest away!"

Outside of Poker, Mr. Lukas was an Asst Professor at Georgia Tech and has degrees in Finance, Law, MCP and Real Estate. He also has been a consultant on sales & marketing to numerous fortune 500 companies.

You'll find videos on ProPlay from John on Omaha and Stud. Click this link if you are interested in Private Poker Instruction from John Lukas.