&quotThe Insider"
Alex Outhred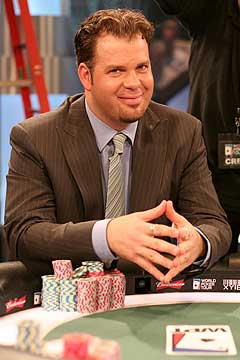 Instructor at World Series of Poker Academy Poker Camps

Past Instructor at World Poker Tour Boot Camp

54th Place of 6,844 in 2008 WSOP Main Event

4th Place in his Very First WPT Event at Mandalay Bay in 2006

12th of 1,013 in 2007 WSOP Event #19 ($2,500 NLH)

Former Associate Producer for World Poker Tour Television Show

Won $500,000 on Game Show Are You Smarter Than a 5th Grader?

ProPlayLive.com Advanced Poker Training Instructor
Alex is probably best known for his efforts over the past several years doing poker instructional work having taught literally thousands of poker students. His long run as an Associate Producer for the World Poker Tour made him one of the few people to have seen every card and critical decision from the players at WPT final tables....a job that got him his poker nickname "The Insider". Working with World Poker Tour announcers Mike Sexton and Vince Van Patten also improved his game. Interacting day in and day out with these poker icons gave him a better appreciation for how important math and psychology are to the game and how really understanding them produces winning results.

Alex found a love for poker at junior high school in New York City where he battled against his classmates for milk money. He continued to play home games in high school and college. He majored in psychology and philosophy at the University of Michigan. Courses in math, game theory and statistics were good matches for poker. After moving to Los Angeles he got his dream gig at the WPT.

After leaving the WPT as a producer, it wasn't long before he was back, but this time in front of the camera as a Final Table participant where he finished 4th at the Mandalay Bay Poker Championship / WPT Event Season 6. Alex went deep in the 2008 WSOP Main Event, getting down to 54th place of 6,844 entrants and was the chip leader on one of the days to boot.

When he's not actually playing poker, Alex spends his time providing private poker training of some of Hollywood's biggest celebrities and managing tournaments featuring famous athletes, celebrities and poker players as well as a seminar leader at the WSOP Academy Poker Camp.

We are proud to have an instructor of Alex's exceptional teaching ability, as part of the ProPlay team. Click this link if you are interested in Private Poker Instruction from Alex "The Insider" Outhred.